The 35th Molecular Modelling Workshop 2021 was planned to take place 8th-10th March 2021
Unfortunately, the still ongoing pandemic is forcing us to cancel the meeting, because we are not able to organize the event in a way we and especially you are used to it. We hope that you will understand our decision and cross our fingers that in 2022, everything will be back to normal and we can meet personally in Erlangen again!
Meeting Gleanings
The organizers want to thank everyone who helped to make the 34th Molecular Modelling Workshop 2020 an interesting and inspiring meeting!
The workshop book of abstracts is available for download:
Book of abstracts (~49 MB, PDF)
The workshop Photo 1 of all participants is available for download in higher resolution:
Download: JPG ~3.6 MB

The workshop Photo 2 of all participants is available for download in higher resolution:
Download: JPG ~3.6 MB
The winners of the Lecture Awards are: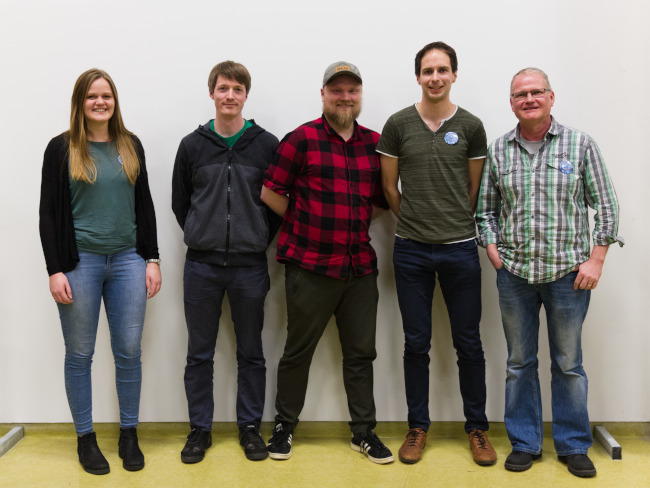 (Lecture Awardees presented by MGMS-DS chairman Harald Lanig (right) - click image to enlarge)
1. L19: Sören von Bülow (2nd from right)
Dynamics of crowded macromolecules from atomistic simulations

2. L28: Illimar Rekand (middle)
Druggability Predictions of Ribonucleic Acid Crystal Structures

3. L18: Laura Schulz (left)
Sampling of Ligand-Induced Conformational Changes in Renin and Factor VIIa

3. L9: Patrick Melix (2nd from left)
Ligand Field Molecular Mechanics applied to MOFs
The winners of the Poster Awards are:

(Poster Awardees presented by MGMS-DS chairman Harald Lanig (right) - click image to enlarge)
P16: Jonas Kaindl (left)
Metadynamics Simulations Reveal Binding of PAR2 to its Trypsin Activated N-terminus

P27: Navista S. O. Ujiantari (middle)
Pharmacophore-based virtual screening to identify new β3-adrenergic receptor agonists
Wiley-VCH "Advanced Theory and Simulations Awards"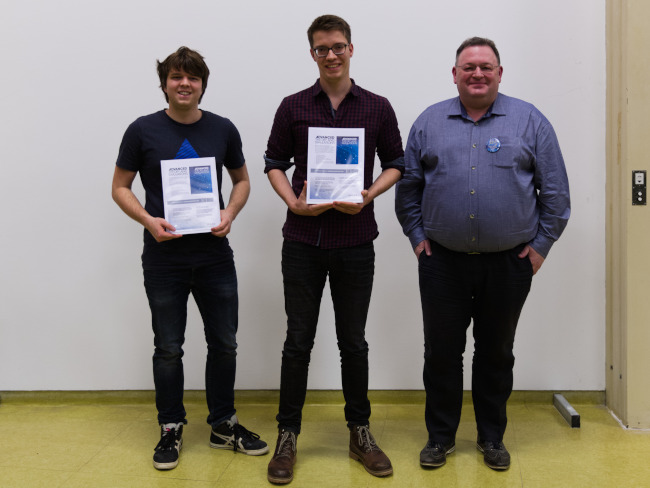 Lecture Awardees presented by VCH/Wiley editor-in-chief Dr. Stefan Spiegel (right) - click image to enlarge)
L1: Marcus Conrad (middle)
Histamine H2 Receptor in complex with Gs protein: a comprehensive molecular dynamics study

L4: Nicolas Tielker (left)
A SAMPL journey, or "There and Back Again": From 2 over 5 to 6 and back to square one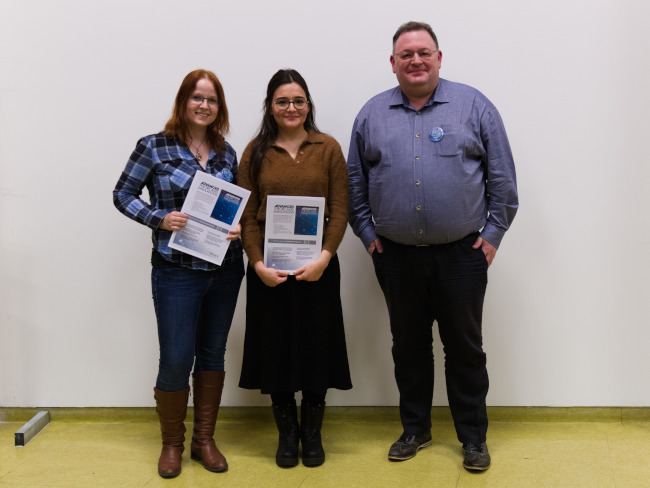 (Lecture Awardees presented by VCH/Wiley editor-in-chief Dr. Stefan Spiegel (right) - click image to enlarge)
P14: Julia B. Jasper (left)
What can we learn from local water happiness?

P20: Lalehan Oktay (middle)
Targeted in silico screening of small molecule databases against breast cancer
Workshop Announcement

The 34th Molecular Modeling Workshop 2020 (February 17th to 19th) in Erlangen provides research and graduate students, and new postdoctoral scientists with the perfect opportunity to present their research to the molecular modeling community. Scientists at the beginning of their academic career are able to meet new colleagues in academia and industry, discuss their research topics and gain valuable feedback.

The aim of the Modeling Workshop is to introduce research in progress. It is the perfect venue to introduce new methods in molecular modeling that can be applied to many disciplines. The workshop is suitable for everyone, those who want to gain experience in presentation skills and those who just want to network in a friendly relaxed environment.

The organisers welcome both poster or lecture contributions in English from all areas of molecular modeling including life sciences, physical sciences, material sciences and the nano sciences, including computational biology and chemistry, and cheminformatics.

This year, Dr. Christof Jäger (University of Nottingham) is responsible for the scientific content of the meeting.

The conference fee amounts to 100 Euro (students and PhD students pay 50 Euro). If you do not disagree upon registration at the conference desk, the fee includes the annual membership fee for the MGMS-DS e.V. (only payment in cash at the registration desk is possible).
Downloads:
---
Quicklinks:
---
Plenary lectures
"Recognition and specificity in protein-DNA interactions - insight from molecular simulations"
Pavel Jungwirth
Prague
"Electrons in Liquid Ammonia and in Water: From Blue Electrolytes to Bronze Colored Metallic Solutions"
Barbara Kirchner
Bonn
"Insights into ionic and molecular liquids and their interfaces from computational chemistry"
"Enhancing conformational sampling with machine learning"
Birgit Strodel
Jülich
"Modelling peptide aggregation influenced by in vivo conditions"
Oral and poster presentations
To give also the poster presenters the opportunity to have a look at the other presentations there will be two poster sessions.
Several reasons have prompted us to introduce English as the official workshop language. (Oral presentations may still be given in German. However, please prepare slides in English in this case.) Oral presentations should not exceed 25 minutes (including discussion); posters should be prepared in portrait format (max. 90x140cm).
The deadline for registration and submission of abstracts for oral and poster presentation is January 24th, 2020.
Only online registration is possible.
Please submit abstracts for oral and poster presentation (one page DIN A4 format) no later than January 24th by e-mail to mmws@mgms-ds.de. Please use this Word template or this OpenDocument template for abstract preparation and send it as PDF (print-ready) to mmws@mgms-ds.de.
Please be aware that your accepted abstract document will be included as-is into the book of abstracts and on this website.
Awards
As in the past years, there will be two Poster Awards of 100 Euro each and three Lecture Awards for the best talks:
Winner: 500 Euro plus a speaker slot option at the Young Modellers Forum in London, organized by the MGMS-UK.
​Additionally, we are happy that, for the first time, the Wiley-VCH journal "Advanced Theory and Simulations" is providing several book token awards to outstanding workshop contributions.

Only undergraduate, graduate and PhD research students, who agreed to our data publishing policy, qualify for the poster and lecture awards.
Pre-conference workshop
After successful and positively perceived workshops in previous years, Schrödinger is again offering a pre-conference workshop. The topic of this year's workshop is "Investigating small molecule & bio-macromolecule dynamics and interactions with the Schrödinger Suite"
Computational Chemistry has become an integral part of modern biotechnology and drug design. The methods in the computational modeller's toolkit vary enormously in cost and complexity, from simple visualisation tasks to high-level quantum mechanical calculations and atomistic dynamics simulations. Schrödinger, as a scientific leader in developing state-of-the-art chemical simulation software for use in pharmaceutical, biotechnology, and materials science research, offers tools spanning this entire range.
The workshop is intended as a beginners overview of common modelling, simulation and analysis tasks in the context of atomistic simulations. After a hands-on training in the Maestro 11 interface, the portal to all of Schrödinger's computational technology, the workshop will cover system preparation and general model building as well as molecular dynamics simulation setup and analysis. There will be ample time for experimentation and questions.
In this workshop, you will learn how to use the Maestro interface for visualization, basic modelling tasks and the preparation of proteins and ligands for running any down-stream computational applications. Building on this knowledge, we will use Maestro to prepare and look at the results of molecular dynamics simulations and analyze molecular motions and interactions both geometrically and energetically making use of some new trajectory analysis tools of Maestro.
The workshop takes place 11 am - 1 pm at the Computer-Chemistry-Center, Nägelsbachstr. 25, 91052 Erlangen, which is in walking distance to the main conference venue (Institute of Biochemistry, Fahrstraße 17). If you are interested in participating at the software session, please tick the corresponding checkmark upon filling the registration form. Please acknowledge that by checkmarking your interest you allow us to ask you by email to get in direct contact with Schrödinger to receive further information about the software session.
We will NOT forward your email address to Schrödinger!

Conference location
All talks, coffee breaks, the poster sessions and the buffet dinner will take place at the
Institute of Biochemistry, Fahrstraße. 17, Erlangen.
Accommodation
Participants must organize travelling and accommodation themselves. For a list of hotels and guest houses please follow the link (Hotels).
The rates given are only for orientation and may vary.
Wi-Fi Access
Wi-Fi access is possible by (SSID) eduroam. Please configure your Wi-Fi in advance or ask your local administrator for detailed informations about your eduroam access.
General informations about eduroam:
General meeting of the MGMS-DS e.V.
The general meeting of the German Section of MGMS (MGMS-DS e.V.) will be held during the workshop. Note that you may easily join the MGMS-DS for one year and thus be allowed to attend the general meeting when you pay the registration fee at our conference site.
Miscellaneous
For further information, and a list of abstracts already received, please visit this workshop website from time to time. Please address additional questions regarding the organization of the workshop to mmws@mgms-ds.de.


We are looking forward to meeting you in Erlangen!

The MMWS 2020 Team